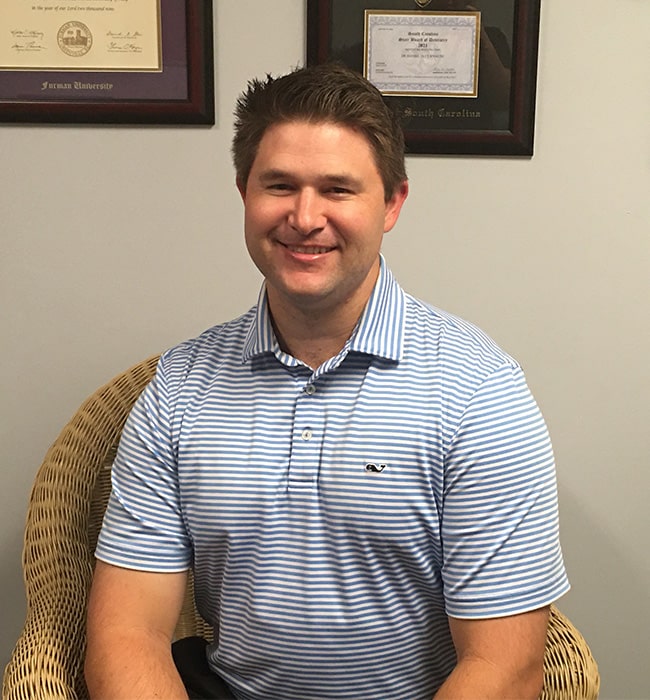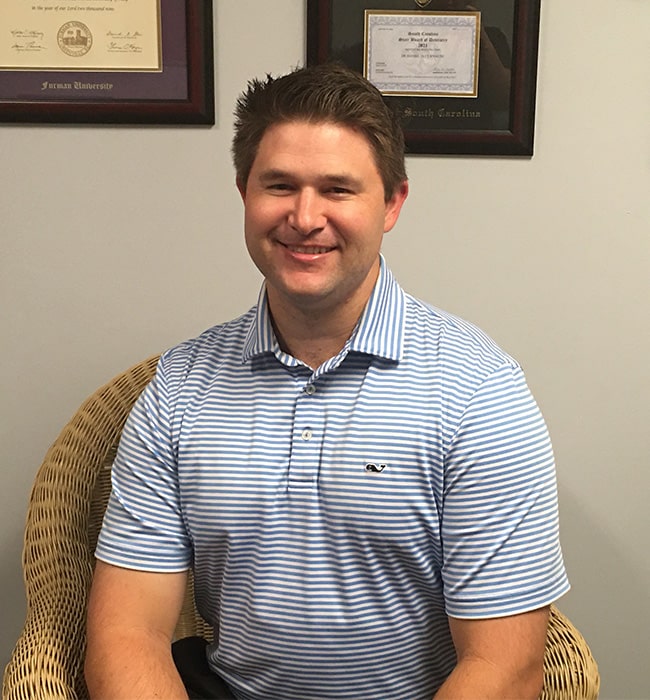 Daniel Knause
Dentist
Hello, my name is Dr. Daniel Knause. I was born in York, PA and grew up in Greenville for most of my life. Growing up, I was into Karate, tennis, and golf. In tennis, I was competitive on a national level and was ranked #1 in South Carolina. In 2009, I graduated from Furman University with a degree in Health and Exercise Science and 3 Southern Conference tennis titles.
Charleston, SC holds a near and dear place in my heart because I met my wife there during my time in dental school. I graduated from the Medical University of South Carolina in 2014 with a DMD degree. My passion in dentistry is providing the most cutting edge treatments with the best materials available while being calm and caring. I have pursued significant continuing education in the areas of digital and laser dentistry, and orthodontics.
I was an associate dentist at another office in town for 6 years where I honed my skills before purchasing Southern Smiles in 2020. I have renamed the practice Southern Laser Dentistry to continue to emphasize our Southern hospitality while reflecting the advanced laser treatments that we provide.
I have an incredible and supportive wife, Lacey, who helps me behind the scenes with the office while working a part time job and being a full time mother and house manager. I often call her "WonderWoman"! We were married in 2015 and now have 2 incredible and energetic boys – Henry, born in 2017, and Andrew, born in 2020. We have a dog named Charlie, who is a mini Goldendoodle. He always has to be right in the action at our house unless he is napping close by his mommy.
My current hobbies are tennis and golf – I love going on the courts and course with my family! Another favorite family activity is taking walks and jogging. The stroller keeps getting heavier and heavier as my boys are growing so quickly!
I am honored to serve you and appreciate the confidence you put in my team and me!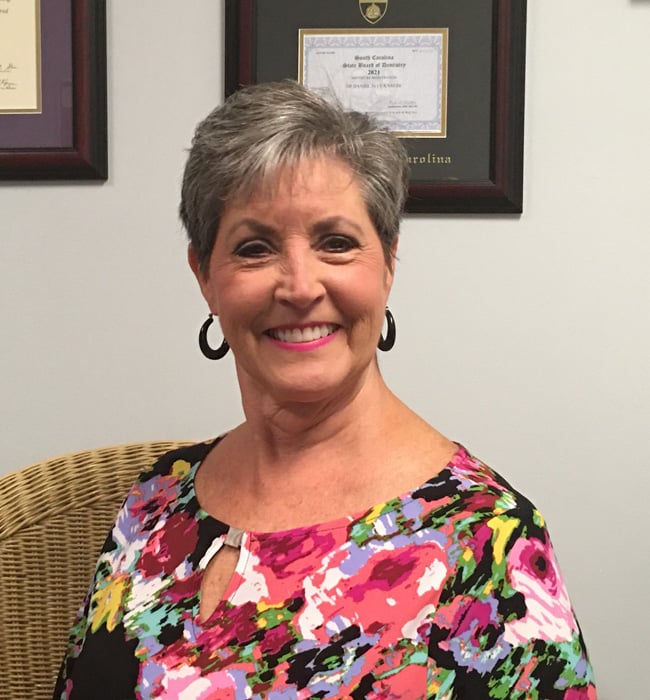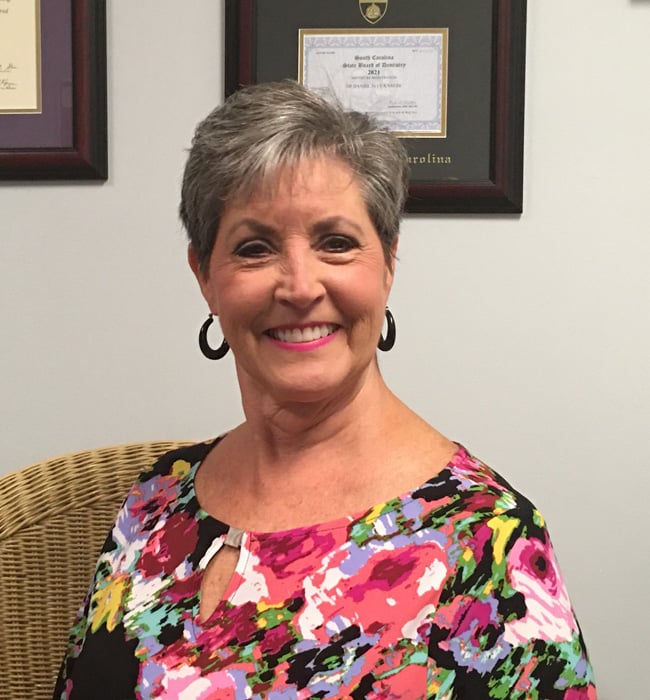 Jan Nance
Patient Coordinator
My name is Jan Nance and I am a native of Greenville, SC. My husband and I have been married for 42 years. We have one son who is married to an incredible woman. They have blessed us with four amazing grandchildren. I have been in dentistry since 1984. I am one of the first people a patient sees upon their arrival. Even with a mask on, I give them a friendly smile. My goal is to treat each patient with grace and kindness. I treat them the way I would like to be treated. The connection between our patients and staff is amazing. I love coming to work because our office is not like any office, it's a close dental family. Outside of work, I spend lots of time in the kitchen. I love trying new recipes as well as changing old ones. I enjoy long casual walks with my husband and our furry Bichon Friese named Zoe.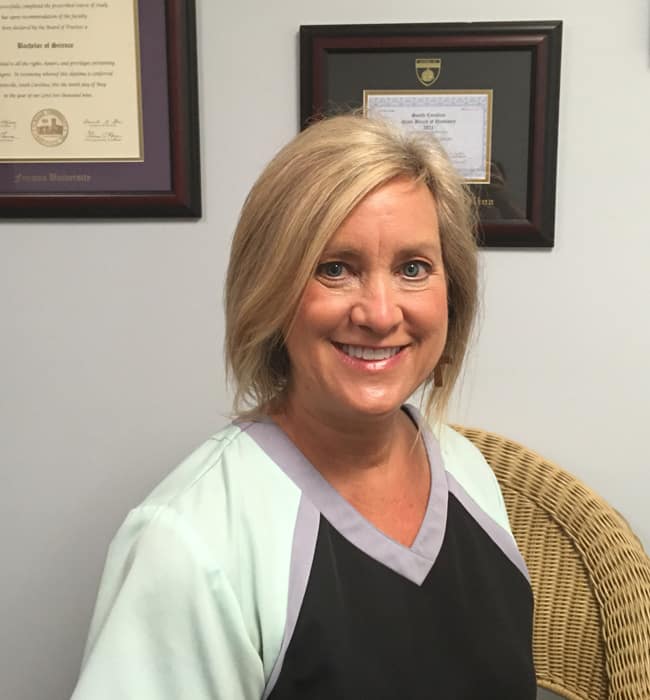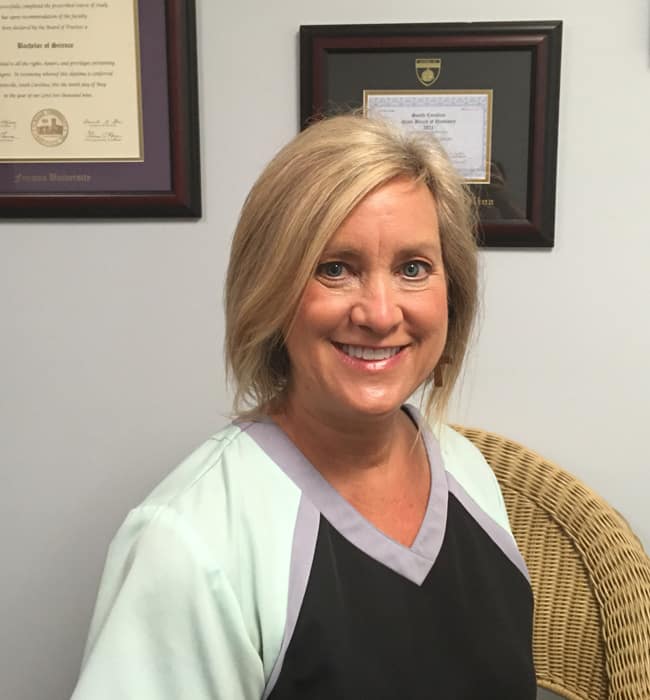 Tammy Dobbins
Dental Hygienist
Hi friends, I'm Tammy Dobbins, a native of the Upstate and long-time team member of this wonderful practice. This is a warm, friendly environment where our coworkers and patients are considered an extension of family. Since 1989, I've seen several generations of patients and celebrated lots of life around the dental chair. I believe if we treat our patients the way we would want to be treated, they will keep coming back and feel warmth and comfort, even while in the dental office. My love of studying God's amazing design of the human body, passion for helping others, and love of my own family dentist drew me to dental hygiene. It has been a perfect fit, as I've been able to not only teach oral hygiene and help patients improve dental health, but also guide my patients to better overall health and wellness. When not in the office, you will find me teaching wellness through the use of essential oils or loving life on beautiful Lake Keowee. My husband of 39 years shares my love of living life by the water and entertaining our two children, son-in-law, and three grandchildren there. I love enjoying coffee at sunrise, long walks, paddleboarding and gathering friends and family around our table.
Kim Reed
Dental Hygienist
Hi, my name is Kim Reed.I was born in Georgia and raised in south Florida. I grew up playing softball, running track, and cheering in school. My outside activities included water skiing, scuba diving and I showed Hunters/ Jumpers for 12 years. I met my wonderful husband when he was playing baseball in Florida and we have been married for over 20 years.Most weekends we could be found cheering on our teenage son when he is playing soccer and running cross country.We moved to Greenville in 2007 and I have been blessed to have been with this office since 2008.I have enjoyed getting to know and caring for many of our dental families throughout the years and watching their children grow up.My training and education has allowed me to instruct, care, and motivate my patients to achieve their oral hygiene goals. I believe the key to a successful practice is compassion. Dr. Knause and our staff show kindness, understanding, and sensitivity daily. We all form valuable trust and connections with our patients. I look forward to what the future holds for our office!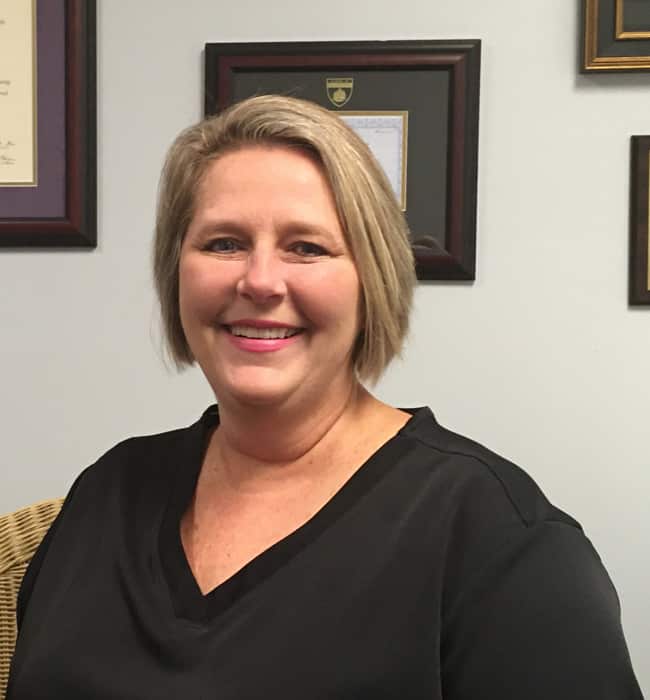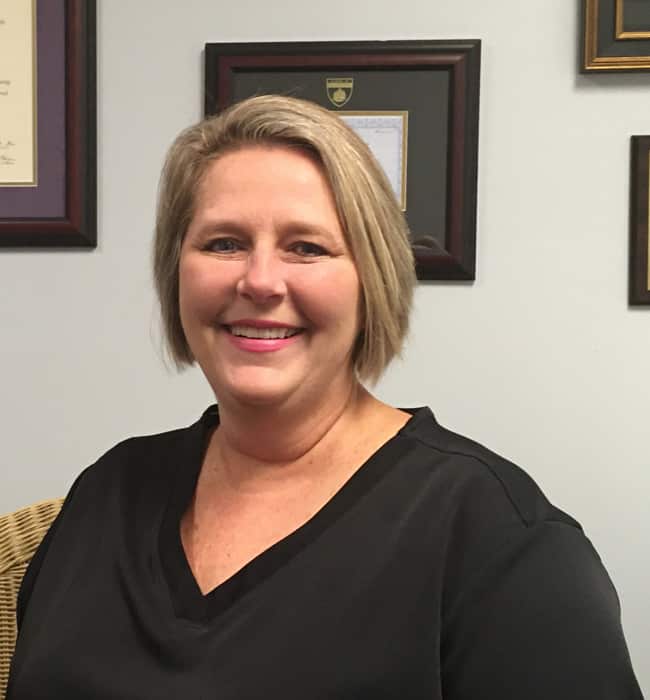 Kim Bryson
Dental Assistant
Hi! My name is Kim Bryson and I grew up in the small town of Piedmont, SC. I have 2 brothers and 4 sisters. There was never a dull moment growing up. I now live in Easley, SC with my husband and daughter. We have 3 dogs, 1 barn cat, ducks, chickens, and a rabbit. My husband and I are active in our church. I have my CDL and I drive the bus for the senior citizens activities. I have been in dentistry since 1991. I enjoy getting to know the clients and making them feel at ease while in the office. I enjoy working with Dr. Knause and the team and making it a family atmosphere. I look forward to helping all of our clients achieve the best smile possible and improve their oral health.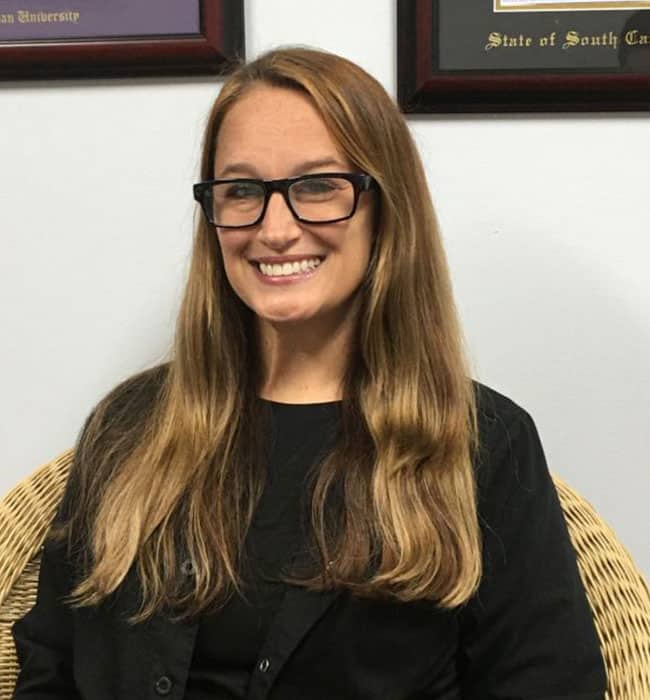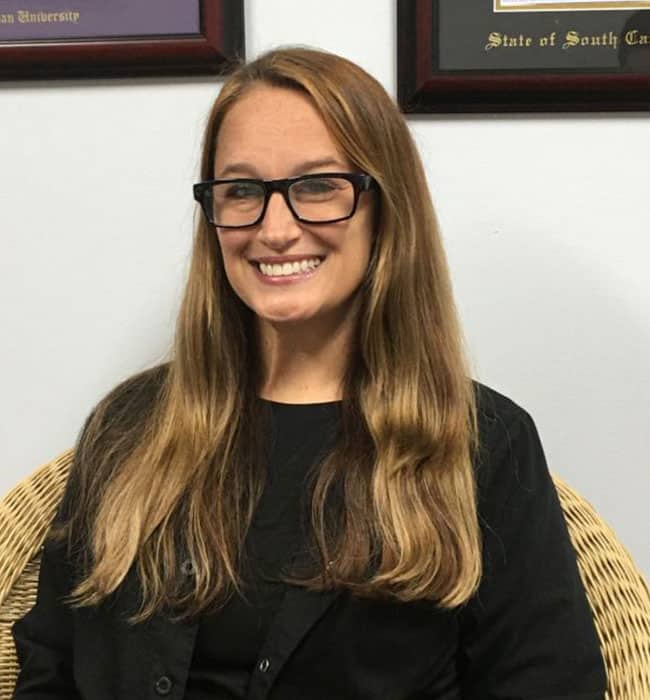 Kristy Wilson
Office Manager
"Hey everyone! My name is Kristy and I am from Spartanburg, SC. I grew up in Duncan and now I live on the Eastside of Spartanburg. I have been in dentistry for 20 years. I am a certified expanded duty dental assistant with several years of dental administrative experience.I married my best friend Travis in April 2020. We are blessed with six kids between us. When I am not at work, I am with my family. We love lake life, camping trips, and mini vacations. I run a craft and Pampered Chef business. My husband and I enjoy tournament bass fishing together.  We are very active at our church and with kids' sports and activities.  I am so blessed to be a part of the team at Southern Laser Dentistry. I have worked with Dr Knause previously and I am so excited to be working with him now. I look forward to seeing all of  our guests and being a part of providing an exceptional dental experience.